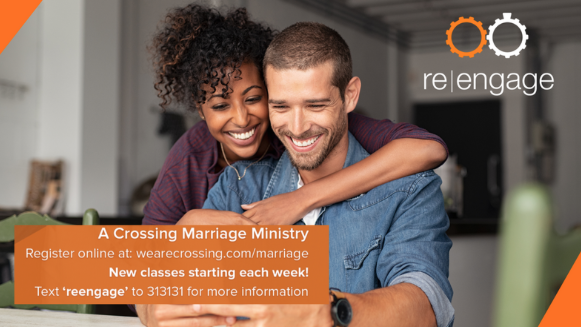 RE | ENGAGE – Marriage Ministry
Re | engage examines God's design for marriage and applies principles from the Bible to guide and move couples toward improved communication, oneness, and love.
Using group teaching, small group discussions and testimonies of grace, re | engage can benefit any marriage.
Whether you've been married 2 months or 40 years, you would rate your relationship a 2 or an 8, you are struggling to get along, your marriage is broken, or you simply want to grow closer together as a couple; re | engage is your place to reconnect, re-ignite, and resurrect your marriage!
Register online – wearecrossing.com/marriage
Date & Time – Thursday Night – 7:00pm
Address – The Crossing Church – Tampa Campus, 10130 Tuscany Ridge Drive, Tampa, FL. 33619