February 9th, 2023 
Join us for what's sure to be a highlight of your marriage and the beginning of many positive changes.
The 5 Love Languages Date Night Event with Dr. Gary Chapman will help you discover the tools you need to make a good relationship great, or a hurting relationship heal. Expect to learn, laugh, and connect as Gary reveals powerful insights that will give you a better understanding of yourself, and your loved one, in the ways that connect you most.
Be equipped with Dr. Chapman's expertise on these insightful topics:
Understanding and Expressing Love – What should couples do when those exciting feelings of love seem to be long gone? Learning your spouse's "love language" and choosing to act out of love are the steps to renewing your relationship. Dr. Chapman explains how to rekindle those emotions with a few simple strategies couples can use to express love to their spouses and refill the empty "love tank" in each of them.
Dealing with Your Failures – Apology and Forgiveness — We all mess up. We say and do things we deeply regret and attempt to make things right. But sometimes, "I'm sorry" isn't enough. In this session, Dr. Chapman will show you how to apologize and receive apologies-in ways that actually work. But he will also teach you when and how to forgive someone who has deeply hurt you.
Register online – 5lovelanguages.com/events/
Date & Time – February 9, 2023  –  7:00 pm
Event Cost – Couples $29, Single $19
Address – First Baptist Church, 216 N Parsons Ave, Brandon, FL 33510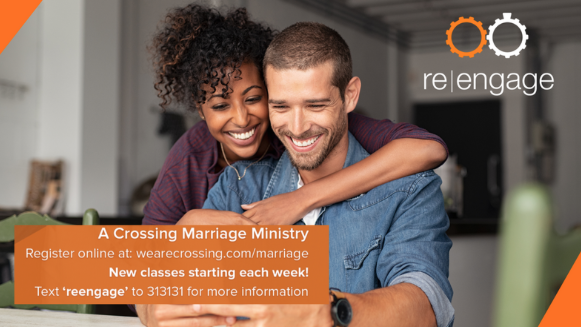 RE | ENGAGE – Marriage Ministry
Re | engage examines God's design for marriage and applies principles from the Bible to guide and move couples toward improved communication, oneness, and love.
Using group teaching, small group discussions and testimonies of grace, re | engage can benefit any marriage.
Whether you've been married 2 months or 40 years, you would rate your relationship a 2 or an 8, you are struggling to get along, your marriage is broken, or you simply want to grow closer together as a couple; re | engage is your place to reconnect, re-ignite, and resurrect your marriage!
Register online – wearecrossing.com/marriage
Date & Time – Thursday Night – 7:00pm
Address – The Crossing Church – Tampa Campus, 10130 Tuscany Ridge Drive, Tampa, FL. 33619