We were created to worship God.  Whether we are praising Him in an extravagant celebration of joy, a quiet expression of reverence and humility, or out of simple obedience to His voice, our worship is an outward expression of what's going on in the inward heart of man.
All of our gifts and talents have been given to us by our Creator to glorify Him. If we have been born again and our spirit has been renewed, we will desire to express our love and devotion to the One who created us.  If we are not worshiping Him we will end up worshiping creation.  Romans 1:25 says, "Who changed the truth of God into a lie, and worshiped and served the creature more than the Creator, who is blessed forever. Amen." God knew that if we did not set our affection on Him we would set our affection on the things of this world. This world will steal our time away from our Heavenly Father, who deserves all of our worship!
There are more scriptures about praise than there are about worship.  Why?  God inhabits the praises of His people.  "But thou art holy, O thou that inhabitest the praises of Israel," Psalm 22:3. Our praise is an expression of our excitement, enthusiasm and thankfulness for what God has done for us.  It is an outward sign of Him showing Himself glorious through us.  1 Peter 2:9 states, "But ye are a chosen generation, a royal priesthood, and holy nation, a peculiar people; that ye should show forth the praises of him who hath called you out of darkness into his marvelous light." 
God's people should be the happiest people on earth! Not just in our time of worship and assembly but every day and every minute of our lives. Yes, we will have times of sadness, trial and tribulation, but we won't stay there very long when we begin to meditate on the things God has done for us. He has delivered us, healed us, set us free from sin and death. We have eternal life through His Son, Yeshua (Salvation)! Imagine: His presence now resides in each and every one who has been born from above, born of the Spirit.  Now that should be enough to make us do the "Hebrew Happy Dance!"  King David danced and God's presence was still in the Ark!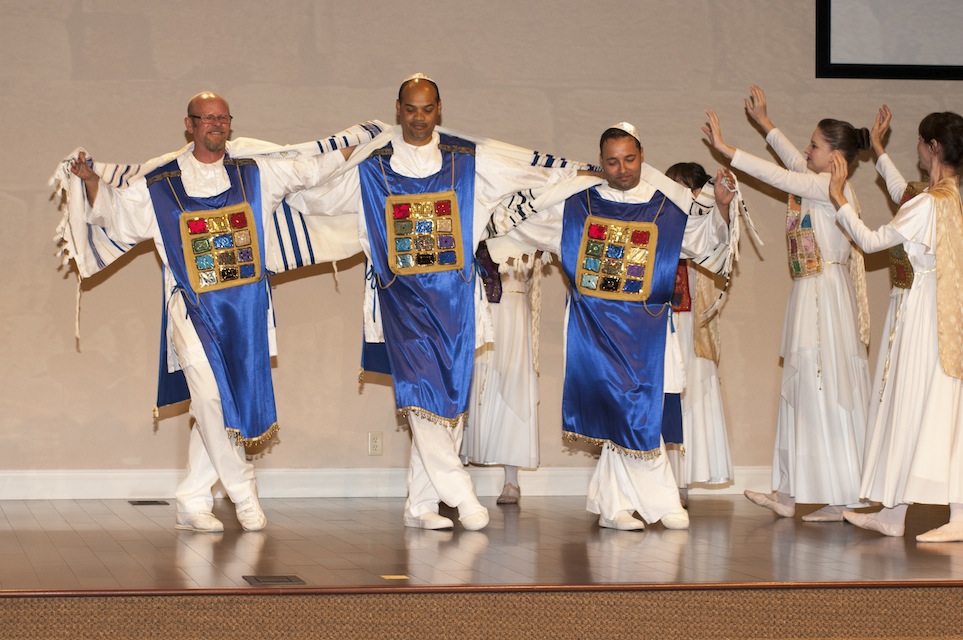 King David instructs us in the Book of Psalms how to worship the God of Abraham, Isaac, and Jacob (Israel). As Renewed Covenant believers, we are living in the days of the restoration of the tabernacle of David a
nd the restoration of all things.  See Acts 15:16 and Amos 9:11.  When King David brought the Ark of the Covenant back to Jerusalem it represented restoration for the Children of Israel.  The Ark symbolized God's presence among His people.  Today, His presence resides in our earthly temples.  "What! Know ye not that your body is the temple of the Holy Ghost which is in you, which you have of God, and ye are not your own? For ye are bought with a price: therefore glorify God in your body, and in your spirit, which are God's," 1 Corinthians 6:19-20. We have been in the restoration process since the time of Messiah. For the last 2,000 years we have been slowly progressing in the truth of God's word. The greatest amount of restoration can be seen in the last 200 years of church history.
But how do we know if our worship is ordained by God? His word instructs us. Yeshua said we are to worship God in spirit and in truth (John 4:23). Once we have been born of the Spirit, we need to search the Holy Scriptures for instructions on how He wants us to celebrate and worship Him.
We have a lot to praise God about. Each one of us has been gifted in some way to bring glory to His name.  Look for more information at "How We Worship," and let's learn how to make His praise glorious!