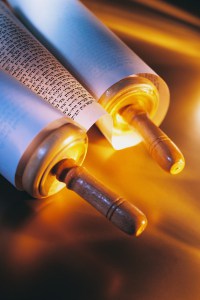 Torah is defined Webster's Dictionary as "a scroll of the first five books of the Bible of the Old Testament used in a synagogue."
"Torah" is a Hebrew word, and it is translated as "law" in English.
The first time the word "Torah" is used in the Bible is found in Exodus 24:12.  "And the Lord said unto Moses, 'Come up to me in to the mount and be there; and I will give thee tablets of stone and a law (Strongs #H8451 – torah) and commandments which I have written; that thou mayest teach them.'"
The Lord told Moses to teach the Torah (or law) to the people.
The Hebrew word "Torah" comes from the root Hebrew word "yarah" (Strongs #H3384) and it means the following:
to flow like water (i.e., to rain)
to lay or throw (esp. an arrow, i.e., to shoot)
figuratively to point out (as if by aiming the finger)
to teach, to inform, or instruct
Torah does not actually mean law, but "teachings and instructions."
When we say the Torah has been done away with, then we no longer have teachings and instructions from the Lord.
We need His teachings and instructions.  We need Torah.